Keith Haring's Pop Shop

Keith Haring's Pop Shop
In 1986, American pop and graffiti artist Keith Haring opened the first POP SHOP at 292 Lafayette St in Manhattan, New York.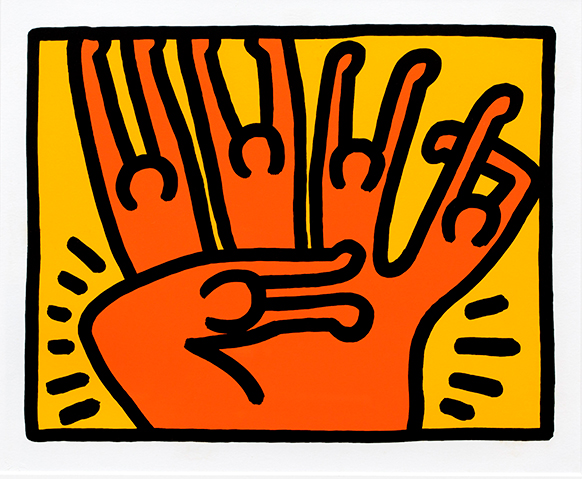 He saw this not only as an extension of his creative work, but also as a fun and lively boutique where his art could be accessible to everyone: a way to democratize access to his art. Indeed, he was a strong believer that his work should appeal not only to the rich but also to the average person in the street. "I wanted to attract the same wide range of people, and I wanted it to be a place where, yes, not only collectors could come but also kids from the Bronx", he said about the philosophy behind the Shop.
Thus, the Shop sold prints, t-shirts, key rings, baseball caps and other novelty items with imagery by Keith Haring, as well as some of his friends and contemporaries such as Kenny Scharf and Jean Michel Basquiat.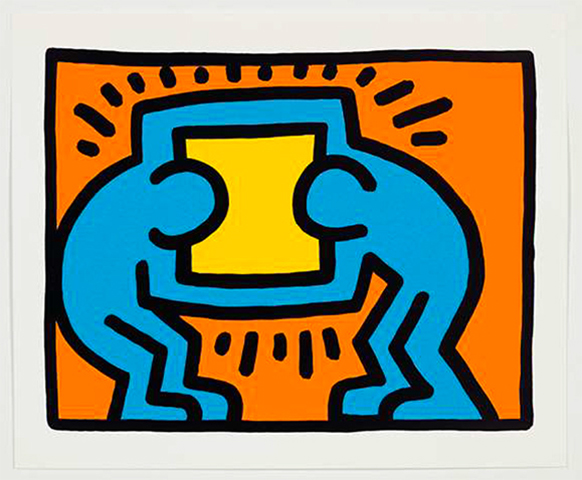 "The Pop Shop makes my work accessible. It's about participation on a big level." – Keith Haring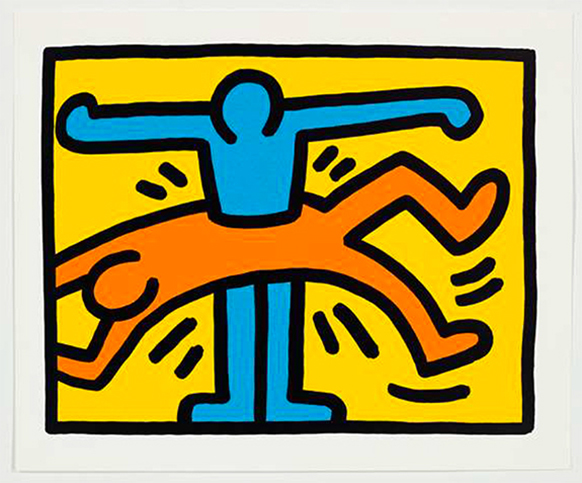 Keith Haring later opened a second POP SHOP in Tokyo, Japan, from 1987 until 1988. The NYC POP SHOP remained open to the public until September 2005, years after the artist's passing in February 1990. Nowadays, an online Shop continues to sell Keith Haring merchandise and items and to ensure his imagery remains accessible to the public.
"Keith managed to take something from what I call Street Art, which was an underground counterculture, and raise it to a pop culture for mass consumption." - Madonna
Both POP SHOPS had their interior walls, ceilings and floors fully painted and graffitied by Haring, making them not just mere shops but true immersive experiences into the artist's universe and aesthetic. After the New York POP SHOP closed down, its original ceiling was donated to the New York Historical Society – where it remains accessible to view to this date.
In 2009, the Tate Modern in London, UK, reconstructed parts of the New York POP SHOP for the exhibition "Pop Life: Art in a Material World" which looked at how artists have since the 1980s cultivated their public persona as a product to build their own brands.
Sources and further readings:
The Keith Haring Foundation https://www.haring.com/!/pop-shop
Pop Shop online: https://pop-shop.com/pages/keith-haring-pop-shop-history
"Is it art, or is it a shop? Keith Haring's iconic Pop Shop is reborn as both" (2009), The Guardian: https://www.theguardian.com/artanddesign/2009
/sep/27/keith-haring-pop-shop-tate
New York Historical Society collections: https://www.nyhistory.org/exhibit/pop-shop-ceiling
⁠